Free Workshop on Small Ruminant Parasties
June 15, 6:30-8:30pm

A workshop for sheep and goat producers is planned for Monday evening, June 15, 2015 at the Maine Forest Service located at 356 Shaker Road (Route 26) in Gray, Maine. Dr. James Miller, a parasitologist from Louisiana State University, will be present-ing a talk titled "What sheep & goat producers ought to know about internal parasites". This workshop is free and open to the public, and is sponsored by the Maine Sheep Breeders Association. Feel free to arrive at 6:00pm for a time to ask specific questions or request advice on addressing parasite problems.
Fiber and Fabric Project at
Leavitt Area High School in Turner
Is looking for some help
click here for details
Sheep in the NEWS! Scrapie Program Related Activities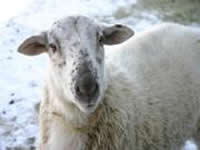 MSBA is an educational, non-profit organization in Maine, dedicated to discussing mutual issues in the sheep industry, exchanging ideas, and working with the intent of aiding sheep producers and the sheep industry.
The MSBA has been involved with a variety of projects, including providing information and educational opportunities to producers and the public.
These opportunities include The MSBA Shepherds' and Shearing Schools, booths at Agricultural shows, as well as sheep and wool festivals. The MSBA supports sales of raw and spun fleeces and value added products from its members, and supports 4-H programs by helping to obtain needed equipment at reduced prices.

As a member of the MSBA you will ...
Receive The Producer - the MSBA newsletter (published 4 times a year).
Be entitled to participate in the annual cooperative Wool Pool sale of fleece.
Have marketing and political representation at state, regional and national levels.
Meet a great bunch of people who love to share information about their animals and about breeding, management, and marketing techniques.
Click Here To Join the MSBA