The University of Maine received a large NE SARE grant this year that included funding to house a flock of sheep. The breed is negotiable. We are considering meat breeds, or wool producers that also make good meat lambs. We can't use Katahdins, however, because our flock will be used for parasitology research, so they need to be susceptible to parasite infestations. Ideally, we would like to have animals that will be old enough to breed this fall.

The starting flock will be around 12 ewes and a ram, all from the same farm. We wish to deal with a producer who has kept the flock closed, and the animals need to be foot rot-free and test negative for OPP and CL. Once we have found a potential seller, we'll ask to test for these diseases at our expense.

We have limited funding to purchase these sheep. If a producer is looking to down-size or get out of the business, this would be a wonderful place for their animals, as we intend to grow and improve this flock, and they would receive excellent care from our staff and our animal science undergraduates (I have excited students lining up to volunteer for sheep chores during the upcoming fall semester!!!). If someone wants to donate animals, we can talk about how to use the gift as a tax deduction.
Sheep in the NEWS! Scrapie Program Related Activities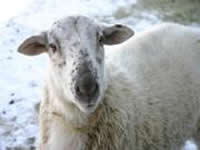 MSBA is an educational, non-profit organization in Maine, dedicated to discussing mutual issues in the sheep industry, exchanging ideas, and working with the intent of aiding sheep producers and the sheep industry.
The MSBA has been involved with a variety of projects, including providing information and educational opportunities to producers and the public.
These opportunities include The MSBA Shepherds' and Shearing Schools, booths at Agricultural shows, as well as sheep and wool festivals. The MSBA supports sales of raw and spun fleeces and value added products from its members, and supports 4-H programs by helping to obtain needed equipment at reduced prices.

As a member of the MSBA you will ...
Receive The Producer - the MSBA newsletter (published 4 times a year).
Be entitled to participate in the annual cooperative Wool Pool sale of fleece.
Have marketing and political representation at state, regional and national levels.
Meet a great bunch of people who love to share information about their animals and about breeding, management, and marketing techniques.
Click Here To Join the MSBA