Dispersal of Crystal Spring Katahdins
Due to a sudden change in health within the family we must disperse our beloved flock of Katahidins. We are offering 52 breeding ewes, 12 outstanding ewes lambs, 3 yearlings rams and 8 ram lambs. The flock has been managed for high production on a forage based system--our sheep have not been fed grain in now over 4 years. We have used rotational grazing ans high quality stored forage mainly provided as round bale silage. We have also focused on selecting for resistance to infection by the barber pole worm (Haemonhus contortus). the flock has been managed for the last 10 years jointly by Seth Kroeck and Tom Settlemire. The dispersal is only taking place to allow more focus on family health.
The flock is based on ram genetics from Lee and Cindy Wright, Virginia ( Ram WRI 8117), Kay Cloyd, Kentucky (ram BGK 0647), Carl Ginapp, Iowa (rams CMG 9072 and 9414) and David Maddock, Georgia ( ram WSK 4236), The web site listed below describes our selection process and our unique "ewe score card program" we have used since the flock was established.
All of the sheep have been carefully evaluated for sound udders, feet and general good health. Prices start at $400 with discounts for purchasing multiple animals -- preference will be given to those buying multiple animals ---we prefer to sell as many as possible to one or two breeders.
The animals are ready for your inspection.
More information about the farm can be seen at:
www.crystalspringcsa.com
Go to heading labeled "lamb" and see more detail and pictures.
To learn more contact;
Tom Settlemire
207-841-6747
tsettle@earthlink.net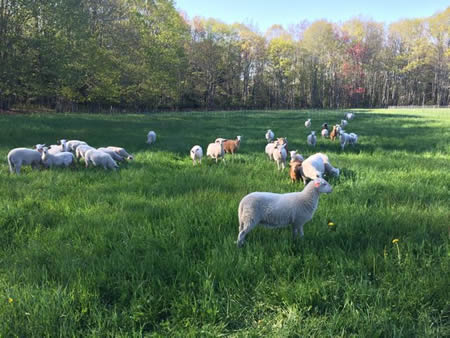 2015 Lambs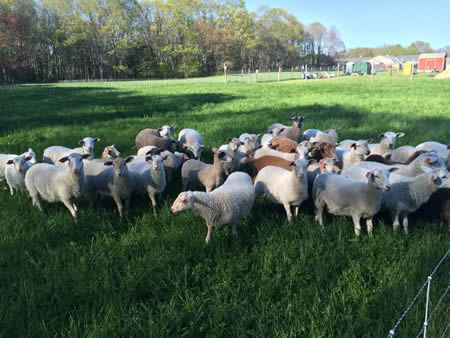 Breeding Ewes
---
FOR SALE:
Ellis River Farm - Icelandic ram lambs, ewe lambs, two-year old ewes for sale. We have a polled flock with a wide variety of colors and patterns. Currently twelve lambs born April-May available. Our sire's fleece has taken the blue ribbon at the Common Ground and 2013-14. His fleece was sold there both years so he was unable to compete at Fryeburg Fair—and his offspring's fleece won there! Come take a look at our stock before shearing to see our fleece in motion. Registered and unregistered stock available from $125-$450. We also have raw wool for sale. 364-7056 /
jonathanstarr@roadrunner.com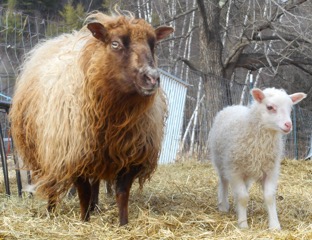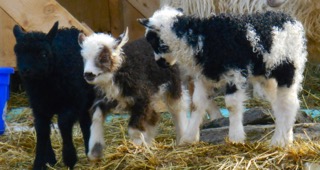 ---
FOR SALE: Romeldale-CVM Lambs Half Price Flock Reduction Sale
Born April 2015. 3 ewes and 1 wether lambs available.
Registered ewes $300, unregistered ewes $225, wethers $125.
Wonderful soft crimpy fleece, good temprement and very hardy.
Hand spinner love these fleeces.
Both natural colored and CVM patterned available
Contact Al at 701-7590 or
newaim@midcoast.com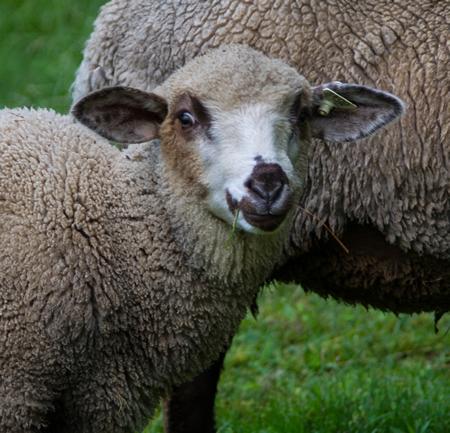 ---
PRICE REDUCED
We have 9 beautiful purebred Finn ram lambs left. They are a gorgeous friendly bunch. We have one brown and 8 white, several who carry for color. They are 6 months old and ready for their forever flock! Would be able to be used for fall breeding. Price is now $250 + cost of registration. They all are eligible to be registered in the Finnsheep Breeders Association and International Finn Registry. Please email
sweetcloverfarm@roadrunner.com
me with specific questions. We are located in Central Maine, Mt Vernon.
sweetcloverfarm.weebly.com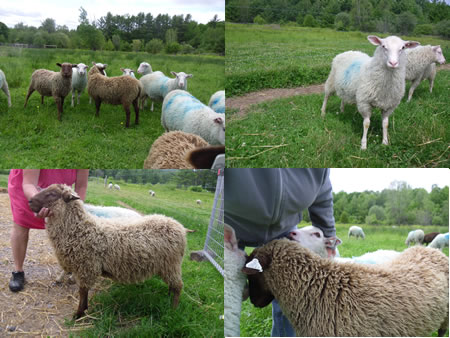 ---
For Sale: Maremma Shepard Livestock Guardian Dogs
Litter of puppies due late September 2015 looking for good working home. These wonderful dogs have been bred in Italy for thousands of years to protect livestock and poultry from predators including coyotes, wolves, bear, weasel, eagle, etc. All puppies will be raised and trained with sheep and poultry from birth. Bred from newly imported Italian bloodlines.
For more information, Please contact Katherine Bessey and Corey Dilts at (207)751-3331,
visit our web site
or email
Katie@gdiworld.com
.
Contact now to reserve pups before they're all gone!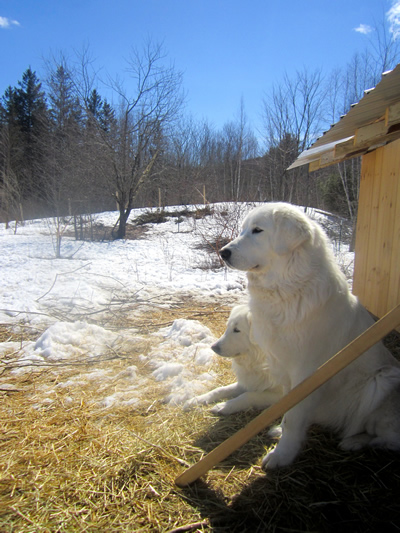 ---
FOR SALE: Ledge Hill Farm
Please visit our website,
www.ledgehillmaine.com
, and our farm page at
www.facebook.com/ledgehillfarmicelandicsheep.com
for more information about our registered horned Icelandic sheep. We are located in Mechanic Falls and can be reached at 740-5110 or
ledgehillgirl@gmail.com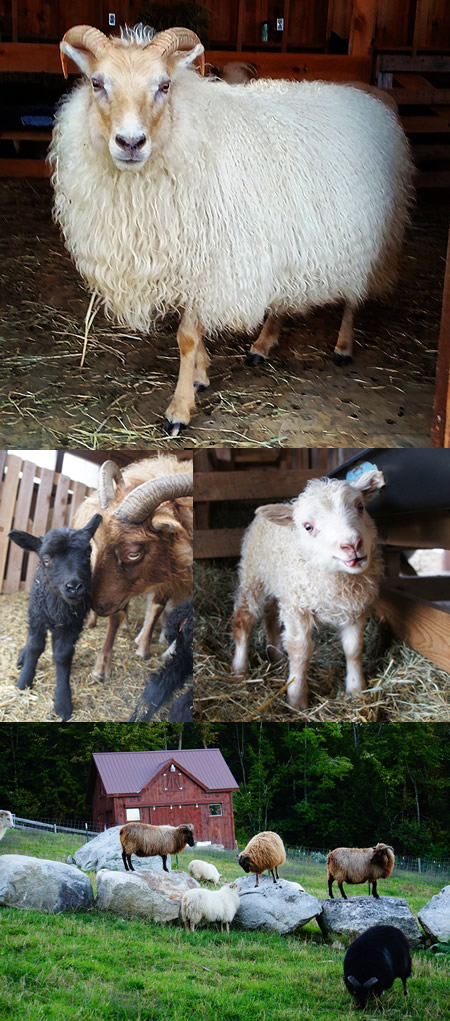 ---
NASON BROOK FARM:
Jacob Sheep Breed stock. Lambs due in late March. Some ewe/lamb combo's will be sold. New 2 horned Lilac Ram, "Round Barn Bruno" used this season.
Call for prices. Ram lambs. Ewe lambs. Wethers. Locker Lambs. Wool. Yarn. Crafts. 207-776-5546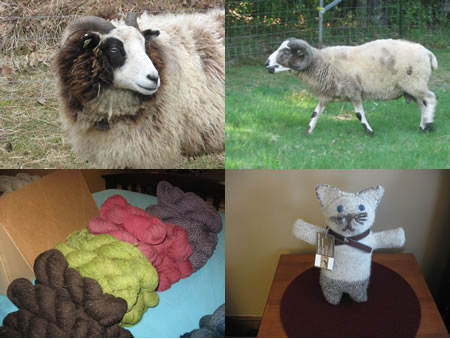 ---
For sale:
Registered Finnsheep and Finn crosses for sale. Finnsheep can boost your lambing percentage as they are known for their multiple births (triplets and quads not uncommon) They have gorgeous fine/med wool with lots of luster. They are very friendly as well and are a fantastic choice for the small hobby farmer. Lambs are expected in March 2015 and will be available May 2015. We are expecting between 45-50 lambs this year. Please check out our web site at
sweetcloverfarm.weebly.com
Like us on facebook Sweet Clover Farm.
Contact us at
sweetcloverfarm@roadrunner.com
or 207-293-2615.
Reserve your lambs now with a deposit!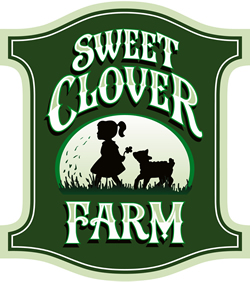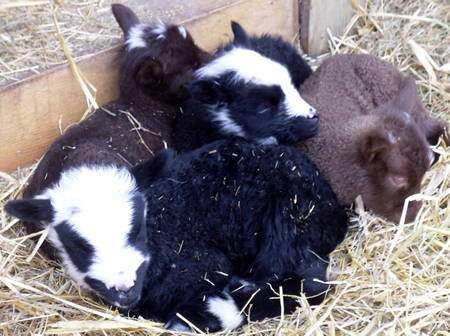 ---